Oct
14
Sun
Training Tour in Italy with Beach's Motorcycle Adventures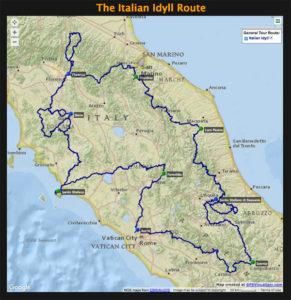 I am excited to announce that I will be joining Beach's Motorcycle Adventures as resident riding coach and tour companion to attendees of the Italian Idyll Tour being held from October 14-28, 2018.
During the tour, I will be available to participants who would like some coaching during the tour. You will return home not only with great memories, but also with improved skills!
Coaching is included with the usual benefits of a full-service Beach's tour. Coaching is free to participants, but is time-limited. *Expanded private coaching is available for a fee.
Coaching is purely optional. I will not comment on your riding at your request. However, I will intervene if I think you are risking yourself or others.