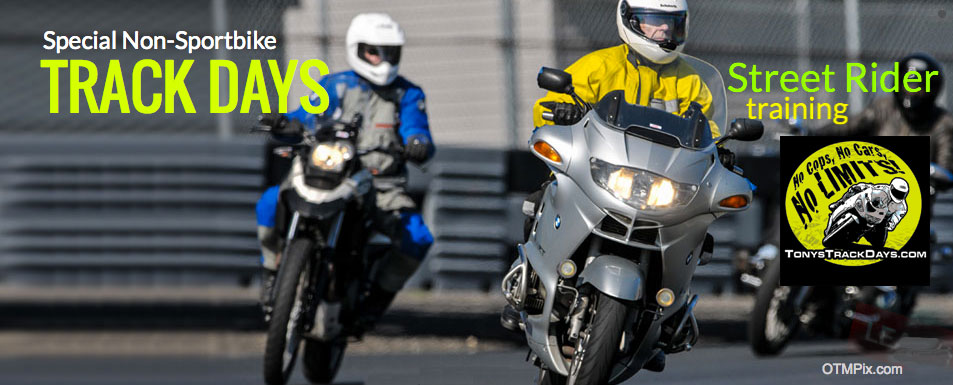 A Non-Sportbike Track Day is the most exciting, fun and effective way to improve your riding skills…period! And you will have a freakin' BLAST.
Non-Sportbike Track Days are held on a closed course (racetrack), which means you learn in a safe environment and at real-world speeds (not race speeds). Learning on a racetrack allows you to ride freely and concentrate on advancing your skill level without the typical hazards faced on the street…potholes, sand, tar snakes and Buicks.
---
Non-sportbike Track Days are DIFFERENT
I know what you're thinking…I don't want to ride on a racetrack with a bunch of crazy kids on their GSXRR6CBR Ninjabikes. Well that's good, because if you come to a non-sportbike track day, you won't have to.
Non-sportbike Track Days are for "regular" riders on big bikes, small bikes, touring bikes, adventure bikes, vintage bikes, and even cruisers.
Let me repeat…Non-Sportbike Track Days are training days designed for regular street riders! No crazies on race-bred sport bikes will be zipping by at warp speed.
For the most part, participants will be experiencing their first time on a racetrack. If it's your first time, rest assured that you will be in good company.
---
When:
August 21, 2017 – Palmer Motorsports Park

---
Where:
Palmer Motorsports Park
Palmer, MA
Other possible venues for 2017:
Thompson Speedway
205 E. Thompson Road
Thompson, CT  06277
Club Motorsports
Tamworth, NH
---
How Much: Actual price may change for 2017*
$275.00 – single day. This includes garage space and catered lunch! (Individual days are $275 each, but the price goes to $325 in the last week)
$500.00 – BOTH days (Must register for both days before April 1st, 2016. Note that days fill up early)
It's the best investment in fun and skill development money can buy.

---
The Next Level of Fun and Learning
Perhaps you've taken the MSF BRC, ERC, ARC, Lee Park's Total Control, or some other advanced parking lot training course.  These courses are terrific for building the fundamentals of motorcycle control, but applying techniques in a parking lot at 20 mph does not train you to deal with challenges you face every day at typical street speeds.
Haven't taken an advanced parking lot course? No worries, the Non-Sportbike, Street Rider Training Track Day is designed for riders of all skill levels, from those with a few months in the saddle to riders with decades of riding experience.
The skills we will be working:
Read more about the benefits of track days.
---

More Than Just Riding on a Racetrack
The Non-Sportbike Track Day begins the night before with tech inspection and track walk. Weather permitting, we'll end the evening around a campfire sharing stories and bad jokes with our fellow riders.
The next day will start with a rider's meeting followed by a Follow the Leader session for all riders in each group. The day continues with a full day of classroom sessions  taught by Ken and his hand-picked staff discussing riding technique. You'll get lots and lots of riding time to practice what you learned. Coaches will be on track helping you get the most out of your day.

3 Riding Groups
ADVANCED (Sport Touring) GROUP
INTERMEDIATE (ADV Bike) GROUP
NOVICE (Cruiser/Big Bike) GROUP
---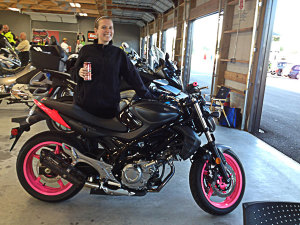 Testimonials from the 2014 Non-Sportbike Track Day
–"I wanted to thank you for an immensely enjoyable time! I was a bit nervous coming into the day, it being my first ever track day, but you guys put me at ease very early in the game.  I wrote down on my note pad in big letters RELAX,HAVE FUN.  I wasn't pressured in any way that I had to go fast. That being said I could feel myself going faster as the day progressed with the observations and instruction of your staff. My friend and I thought the timing of the sessions throughout the day was perfect. Just enough time on the track not to get too tired and just enough time in between your sessions to rest and think about how to improve, have class time, and not get bored. The availability of the instructors was impressive also." -Glenn M.
–"The 2014 Non-Sportbike Track Day was an outstanding learning tool and was great fun! The ability to practice what you learn in the classroom on a controlled track is fantastic. I heartily recommend this to all street riders interested in riding better and having a blast." – Ed C.
–" Once I learned the lines of the track, I was able to totally focus on cornering technique. Since then, I've been smoother into and out of corners." -Todd R.
---
Videos
Watch cruisers, tourers and even a Burgman scooter ride around the Thompson (CT) Speedway during a special the 2014 Non-Sportbike Track Day. ST's, BMW Fs and GSs, V-Stroms, Harleys, a Concours 14 and not a sportbike in sight:
Mix of Cruiser/Big Bike (Novice), Intermediate and Advanced Groups:
Sport Touring (Advanced) Group:
---
Your Hosts:
Do It!
Now is the time to put riding theory into real practice, using your bike, ridden at real world speeds. You WILL improve your braking, shifting and cornering skills and leave with increased confidence!
The Riding in the Zone Non-Sportbike Track Day is the next step in your journey toward becoming a Motorcycling Master. Sign Up Today!
---
Bike preparation
Rider preparation
Schedule
Lodging
And More
---