Description
Non-sportbike Training Track Days are DIFFERENT
Non-Sportbike Street Rider Training Track Days are held on a closed course (racetrack), which means you learn in a safe environment and at real-world speeds (not race speeds). Learning on a racetrack allows you to ride freely and concentrate on advancing your skill level without the typical hazards faced on the street…potholes, sand, Buicks and texting teens.
I know what you're thinking…I don't want to ride on a racetrack with a bunch of crazy kids on their GSXRR6CBR Ninjabikes. Well that's good, because if you come to a non-sportbike track day, you won't have to.
Non-sportbike Track Days are for "regular" riders on big bikes, small bikes, touring bikes, adventure bikes, vintage bikes, and even cruisers.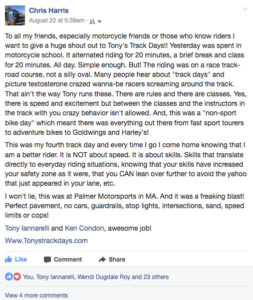 Let me repeat…Non-Sportbike Track Days are training days designed for regular street riders! No crazies on race-bred sport bikes will be zipping by at warp speed.
For the most part, participants will be experiencing their first time on a racetrack. If it's your first time, rest assured that you will be in good company.
Offered in conjunction with Tony's Track Days
---
Note: This event should be considered a GROUP training day. Individual attention is given informally and is guaranteed IF you ask one of your instructors to follow you or to answer a specific question. Otherwise, your learning is largely self-administered through group classroom instruction followed by on-track practice… Classroom, then Practice…Classroom, then Practice…all day long.

---
When: To Be Announced
Typically these days are held on a Monday.
You are eligible for a refund after the date is announced if you are unable to attend the event.
Not ready to register? Sign up for the email list below or through this LINK to be among the first to know about the date and location. Note that the sale special is in effect only until February 1. SIGN UP for the Non-Sportbike Track Day MAILING LIST

---
Where: To Be Announced
Possible locations:
Palmer Motorsports Park, Palmer, MA
Thompson Motor Speedway, Thompson, CT
Club Motorsports Tamworth, NH
Not ready to register? Sign up for the email list below or through this LINK to be among the first to know about the date and location. Note that the sale special is in effect only until February 1. SIGN UP for the Non-Sportbike Track Day MAILING LIST

---
Cost
Order BEFORE February 1, 2018- $295
Order AFTER February 1, 2018 – $325
Order within 2 weeks before event- $350
It's the best investment in fun and skill development money can buy.

Please read the Cancellation Policy before registering.
(NOTE: NO REFUNDS within 45 days of event, and Transfers to different courses are limited)
---
The Next Level of Fun and Learning
Perhaps you've taken the MSF BRC, ERC, ARC, Lee Park's Total Control, or some other advanced parking lot training course.  These courses are terrific for building the fundamentals of motorcycle control, but applying techniques in a parking lot at 20 mph does not train you to deal with challenges you face every day at typical street speeds.
Haven't taken an advanced parking lot course? No worries, the Non-Sportbike, Street Rider Training Track Day is designed for riders of all skill levels, from those with a few months in the saddle to riders with decades of riding experience.
The skills we will be working:
This is how track days work as a rider development tool: First, the nature of the track means you get to repeat each corner many times in a single session/day. This allows riders to learn and refine techniques through repetition.
Take trailbraking for example; with repeated visits to turn X, you are able to build muscle memory for applying the brakes with a high level of precision. For an off-road rider, a day at a flat track would provide a similar learning opportunity to discover limits and refine traction management.
Another benefit of a track day is the concentrated learning environment. It's one thing to ride a lot, it's quite another to spend a full day purposefully practicing new ideas and refining skills.
This would all be much less meaningful to a street rider if it didn't apply to every day riding, but it does. The improvements in physical bike control and mental information processing is used on every ride. The increase in cornering confidence alone will save you if you get into a blind turn too fast.  And having developed body positioning tools will help increase control and ground clearance. Track days are another tool for becoming the best, most well-rounded rider you can be.
Of course, some people will say "it's not for me", even after they do their first track day. More times than not, they didn't get the full benefit for one reason or another. People that go into it to just ride fast may have fun, but they are missing the point.
People that expect to find massive improvement in one day may be disappointed if they spend most of the day just trying to find the proper line and aren't able to focus on technique. We put big Xs on track to try and get people past the line thing so they can focus on the technique part. This is one reason why coming back for a second or third time makes track days more and more beneficial each time.
Read more about the benefits of track days.
---

MINIMAL Bike Prep
If you have a good bike, you can be done in 2 minutes!  We need bikes to be in excellent roadworthy condition with plenty of tire life remaining.  There can be no leaking of any fluids – be sure to check your fork tubes!  We will also be checking brake pads so be sure to have plenty of pad left.  Do not worry about your headlight if it's plastic.  If it is glass, just make an X with tape… don't completely cover it.
Mirrors need to be removed or taped over. This is so you aren't tempted to look behind you. We need you to have all of your attention ahead. People wanting to pass you will simply do by while you predictably stay on line. Like downhill skiing.
---
RIDING GEAR
Riders will be responsible for having full motorcycle gear.  We do NOT provide gear!
Helmets
Helmets must be FULL-FACED.  High quality modular helmets will be allowed but must remain in the locked position when on track.
Jacket & Pants
At a minimum, you should have a motorcycle jacket and pants, good leather gloves (that overlap with jacket) and sturdy over the ankle boots.
If you don't have gear, you can purchase it fairly inexpensively (pants are often under $125), and once you ride with gear – you will wonder how you ever rode without it.  Just Google "Cordura Motorcycle Pants" for options.
We STRONGLY RECOMMEND you have some sort of back protector.  While hard back protectors are strongly encouraged, they are not mandatory.  However, please consider buying CE approved armor, which is TONS better than the thin foam pads generally included with jackets.
If your jacket has a pocket for a back protector, you can get a quality one for about $60.  Alternatively, you can buy one that has a strap that holds it in place… again for about $60 to $150.  Isn't your spine worth that much? Google Search for Back Protector
Kevlar Jeans: Kevlar Jeans with hard armored knee and shin protection or a padded under armor suit are allowed for those not wanting to purchase motorcycle riding pants.
NOTE: Regular Jeans with hard armored knee and shin protection are acceptable BUT BARELY.  Kevlar motorcycle jeans are MUCH better. Chaps can be worn over jeans as long as you have armored knee protection.
Gloves
Gloves must be full coverage and leave no exposed skin.  They should overlap the jacket when you are in the riding position.
Boots
Boots must be over the ankle and sturdy with rubber soles. They must overlap the pants…no exposed skin.
---
3 Riding Groups
ADVANCED (Sport Touring) GROUP
INTERMEDIATE (ADV, Standard Bike) GROUP
NOVICE (Cruiser/Big Tourer Bike) GROUP
These 3 group levels are based Rider PREDICTABILITY and SKILL, with some consideration for speed or the limits of your particular motorcycle:
NOTE:  You will initially be grouped by bike type, but we may move people up or down a group as their riding ability dictates.
Classroom topics for ALL groups is similar where we reinforce cornering, braking and shifting techniques and introduce more advanced techniques and concepts.
---
What Bikes are allowed?
Cruisers (Harley Davidsons, Stars, Shadows, etc)
Tourers (Gold Wings, Tour Glides, etc.)
Sport Touring (ST1300s,FJRs, Concours, VFRs, etc.*)
Adventure bike (V-Stroms, Teneres, Tigers, Explorers, etc.*)
Standards (Bandits, Nighthawks, FZs, ZXR, SV etc.*)
Vintage bikes (in good condition)
and almost any other non-supersport street bike.
These events are intended for riders who would not necessarily attend a "regular" track day. We allow sporty standards and sport tourers, but if your bike is considered a "sport bike", then we encourage you to consider one of the many regular days on the Tony's Track Day's calendar.
---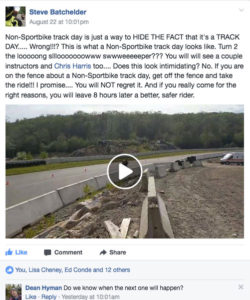 WHAT TO EXPECT:
Every hour of your day (except Lunch Hour) will consist of both track riding and classroom.
–  riding on the track for 20 minutes
–  get your gear off and grab a drink
–  then in the classroom for 15 minutes,
–  gear back up, then back on the track.
FREE Classroom sessions will be held after every on track session until 4:00 PM for each group
PROPOSED SCHEDULE:
ARRIVAL and TECH INSPECTION
7am
TECH INSPECTION
7 – 8:15 AM
RIDERS MEETING
8:15 AM
FOLLOW the LEADER – FIRST SESSION
ADVANCED (
SPORT TOURER) Follow the Leader (Faster)
9:00    ON TRACK
   Classroom ADVANCED GROUP (CRUISER)
9:25    CLASSROOM
INTERMEDIATE (TOURER) GROUP Follow the Leader (Fast-ish)
9:20    ON TRACK
   Classroom INTERMEDIATE GROUP
9:45    CLASSROOM
NOVICE (CRUISER) GROUP Follow the Leader (Slower)
9:40    ON TRACK
    Classroom NOVICE GROUP
10:05  CLASSROOM
OPEN TRACK SESSIONS  – MORNING
ADVANCED (SPORT TOURER) GROUP OPEN TRACK
10:00am  &  11:00am
    Classroom ADVANCED GROUP
10:25am  &  11:25am
INTERMEDIATE (TOURER) GROUP OPEN TRACK
10:20am  &  11:20am
    Classroom INTERMEDIATE GROUP
10:45am  &  11:45am
NOVICE (CRUISER) OPEN TRACK
10:40am  &  11:40am
    Classroom NOVICE GROUP
10:05am  &  11:05am
LUNCH BREAK (begins after your 11 O'clock session ends)
  NOON to 1PM
OPEN TRACK SESSIONS – AFTERNOON
Classroom conducted after each session with an *
Session Start Times
ADVANCED (SPORT TOURER) GROUP OPEN TRACK
1:00*, 2:00*, 3:00*, 4:00
INTERMEDIATE (TOURER) GROUP OPEN TRACK
1:20*, 2:20*, 3:20*, 4:20
NOVICE GROUP OPEN TRACK
1:40*, 2:40*, 3:40*, 4:40
---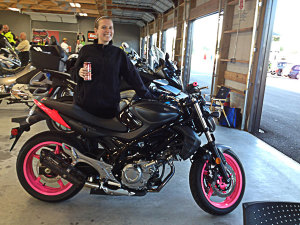 Testimonials from previous Non-Sportbike Track Days
–"I wanted to thank you for an immensely enjoyable time! I was a bit nervous coming into the day, it being my first ever track day, but you guys put me at ease very early in the game.  I wrote down on my note pad in big letters RELAX,HAVE FUN.  I wasn't pressured in any way that I had to go fast. That being said I could feel myself going faster as the day progressed with the observations and instruction of your staff. My friend and I thought the timing of the sessions throughout the day was perfect. Just enough time on the track not to get too tired and just enough time in between your sessions to rest and think about how to improve, have class time, and not get bored. The availability of the instructors was impressive also." -Glenn M.
–"The 2014 Non-Sportbike Track Day was an outstanding learning tool and was great fun! The ability to practice what you learn in the classroom on a controlled track is fantastic. I heartily recommend this to all street riders interested in riding better and having a blast." – Ed C.
–" Once I learned the lines of the track, I was able to totally focus on cornering technique. Since then, I've been smoother into and out of corners." -Todd R.
---
Videos
Watch cruisers, tourers and even a Burgman scooter ride around the Thompson (CT) Speedway during a special the 2014 Non-Sportbike Track Day. ST's, BMW Fs and GSs, V-Stroms, Harleys, a Concours 14 and not a sportbike in sight:
Mix of Cruiser/Big Bike (Novice), Intermediate and Advanced Groups:
Sport Touring (Advanced) Group:
---
Your Hosts:
Do It!
Now is the time to put riding theory into real practice, using your bike, ridden at real world speeds. You WILL improve your braking, shifting and cornering skills and leave with increased confidence!
The Riding in the Zone Non-Sportbike Track Training Day is the next step in your journey toward becoming a Motorcycling Master. Sign Up Today!
Remember that a full refund will be issued if the date makes it impossible for you to attend and that the sale special is in effect only until February 1.
---