Description
Course Description
Friday, May 25, 2018
8:30 to approx. 4:00
Are you ready to venture off the beaten path? Did you finally score a dual purpose bike, but have no clue how to really use it? Does dirt riding intimidate you? Ken can help.
This is an INTRODUCTION to ADV and dual sport riding and is designed for the person who has ridden on the street, but is a newbie to off road riding.
The Dual Sport Training Program is a hybrid of the On-street Personal training program that includes some pavement, but will be made up of mostly unimproved public roads. Difficulty of the route is based on bike type and rider experience.
Course consists of:
Parking lot maneuvers, both on pavement and dirt to practice body position and getting you used to the feel of your bike on unpaved roads.
A street and dirt road tour of the Eastern Berkshire hills with easy and moderately difficult terrain. Two way communicators will be used.
We will explore basic riding techniques to get you headed in the right direction and then go for a tour on some of the local roads and trails near my town in Ashfield, MA.
Beginners with no riding experience should consider taking the MSF Dirtbike School before signing up with me.
This is NOT for intermediate or experienced off road riders. For you folks, I recommend taking the Puget Sound Safety classes in the west coast or the BMW Off-Road Academy.
For Adventure bike riders (BMW GS, V-Stroms, KTM Adventures, etc) and lightweight dual sport bikes (KLX, DRz, WR, XT).
What You'll Learn
On and off-road body positioning.
Off-road braking techniques
Surmounting obstacles
Traction management
---
Where Will We Ride?
We will be touring around my little bit of motorcycling heaven in the Berkshire Hills of Western Massachusetts. The beautiful Berkshire foothills have miles and miles of unimproved roads and trails.
Rides will meet at Elmer's Store in the center of Ashfield, MA. The day will run from 8:30 to approx. 4:00
A lot of students stay overnight the night before at the Inn at Norton Hill so they are fresh for an early start. Nan charges $100.00 (a discounted rate) for my students. It also includes a full breakfast. 
If you are trailering, then we can find a place to park your rig.
NOTE: There is no cell service in Ashfield to speak of. However, Elmer's has free WiFi.
Fuel is located just west of Elmer's on Main St (rt 116).
---
What to Bring
Your street-legal dual-purpose motorcycle, in good condition
Riding Gear (required at all times)- Full-coverage riding gear that is appropriate for off-road riding. I understand that those of you who are new to off-road riding may not yet have dedicated off-road gear. Street helmets are fine as are lightweight jackets and riding pants. However, you will need a sturdy back protector and elbow, knee and shin armor. Armored street boots are okay for fire roads and easy trail riding. Summer shorty street gloves or off-road gloves are best. Mechanics gloves can work until you get real dirt gear.
Plenty of water and snacks (a hydration backpack is recommended)
---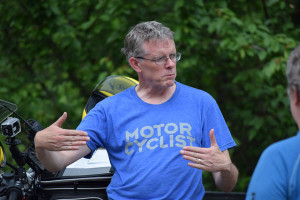 Ken Condon will be your lead instructor. Ken is author of "Motorcycling the Right Way", "Riding in the Zone" book and blog, "Street Savvy" columnist for Motorcyclist Magazine, and longtime author of the Proficient Motorcycling and Street Strategies columns for Motorcycle Consumer News. Ken is Lead Instructor for Tony's Track Days and Riding in the Zone Motorcyclist Training, and a 20 year MSF instructor.
---
---
Other Training Options:
---
The Riding in the Zone, LLC Motorcyclist Training Program is supported by the American Motorcyclist Association and the Massachusetts Rider Education Program (MREP). Scholarships are available through the BMW/MOA Foundation.
Riding in the Zone, LLC is chartered and insured through the American Motorcyclist Association