Description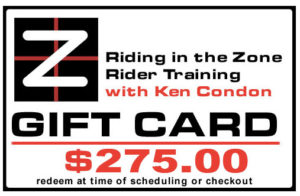 Riding in the Zone Advanced Training GIFT CARD- $275.00 – The cost of one advanced parking lot course.
Redeem at the time of scheduling a Personal Training Tour, Dual Sport/Off-road Tour, Weekend Training Tour or Parking Lot Course. When redeeming, please include the PayPal Transaction#, RITZ order# and the name of purchaser in an email to Ken. ken-at-ridinginthezone.com
Click the image to print out the card image.
---
Other amounts are available:
$475.00- The cost of a one-day Dual Sport/ADV or RITZ/Stayin' Safe training tour.
$600.00 –(the full cost of a personal day with Ken, either on-street, off-road or a bit or both)
---
---
The Riding in the Zone, LLC Motorcyclist Training Program is  supported by the American Motorcyclist Association and the Massachusetts Rider Education Program (MREP). Scholarships are available through the BMW/MOA Foundation.
Riding in the Zone, LLC is chartered and insured through the American Motorcyclist Association