Description
Hidden Hills & Lost Roads of New England Tour
Friday, Saturday & Sunday- July 27-29, 2018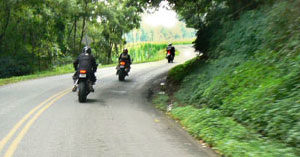 This is a THREE DAY Guided Training Tour is designed to be more of a tour with training, rather than training that is also a tour.  The tour features lightly traveled roads that wind through bucolic New England scenery. Our route includes various challenges ranging from hairpin turns to long, open sweepers that are suitable for most experience levels. Expect rolling and twisting roads with many blind turns and some rollercoaster hills.
We will meet in Ashfield, MA at the quintessentially New England Elmer's Store. Ashfield is nestled at the base of the Berkshire Hills and is home of peaceful Ashfield Lake, Rockwellesque Ashfield Hardware and birthplace of the famous movie director Cecil B. DeMille.
Does not include lodging or meals.
Itinerary
Each day begins with a breakfast meeting at Elmer's Store, followed by a briefing. The rest of the day includes our training tour through the northern Berkshires of Massachusetts and the Southern Green Mountains of Vermont.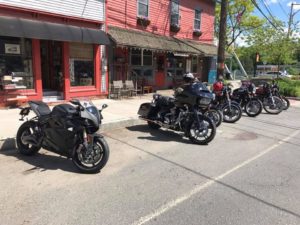 During our tour I will offer tips and coaching you during breaks. Each rider will have an opportunity to receive real-time coaching using  bike-to-bike communicators. The idea is to have a great time while also helping you become a safer and more confident rider.
At about 5:00 PM each day, we return to homebase to enjoy dinner and beverages together.
Guided Training Tours include:
Tour through the hidden Berkshire hills of Western Massachusetts, New York and Vermont.
Limited training at breaks. Some real-time coaching using rider to-rider communicators.
Video of you riding.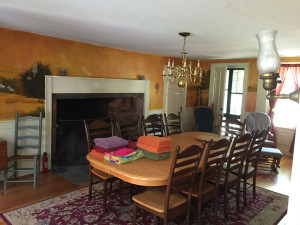 Lodging and Food
Lodging and meals are not included. We recommend staying the night before at the Inn at Norton Hill in Ashfield or the Ox and Rabbit in Shelburne Falls. Tell Nan (Norton Hill) or Lauri (Ox and Rabbit) that you are a student of mine for a special discount rate. If there are no rooms available, click here for a list of local lodging.
We will be staying Friday and Saturday nights at the Gray Ghost in in Dover, Vermont. You will need to make your own reservations ASAP.
The Gray Ghost Inn
290 Route 100 North
West Dover, VT 05356
Phone: 802-464-2474
Toll free: 800-745-3615
Cell: 802-258-8834
What We'll Learn
Slow Speed Riding Techniques (Demo and practice)
Visual Clues (Discussion and real-time coaching)
Cornering Precision
---
Where Will We Ride?
We will be touring around my little bit of motorcycling heaven in the Berkshire Hills of Western Massachusetts and some of my favorite places in the lush Green Mountains of Vermont.
NOTE: There is no cell service in some areas.
---
Requirements
At least one season (3,000 miles) of experience.
You must have a current motorcycle endorsement, as well as a legally insured and registered motorcycle.
You must also present proof of health insurance, sign a liability waiver
What to Bring
Riding Gear (required at all times)

DOT-approved helmet
eye protection (windshields do not count as eye protection)
long pants (armored motorcycle pants preferred)
full coverage gloves
sturdy, over-the-ankle boots.

3.5mm earbuds with an inline microphone. EXAMPLE
Rain gear. Tours run rain or shine.
Enough layers (or electric jacket liner) for cool temperatures.
USB Thumb drive that is at least 8Gb in capacity for video
Skill Level
This is not a course for raw beginners! Students are wise to take the MSF Basic RiderCourse or have at least a full season of experience before signing up (3,000+ miles).
Personal one-on-one On-Street Training Tours are available where I can customize a training program based on your skill level that will ensure satisfaction.
Speeds
We will be riding at moderate street speeds and enjoying a street ride through some beautiful countryside with awesome twisty roads. If you want to learn to ride fast in a safe environment, I am available for Track Day Personalized Instruction at Tony's Track Days.
---
---
The Riding in the Zone, LLC Motorcyclist Training Program is  supported by the American Motorcyclist Association and the Massachusetts Rider Education Program (MREP). Scholarships are available through the BMW/MOA Foundation.
Riding in the Zone, LLC is chartered and insured through the American Motorcyclist Association