Description
Tour Description
You want my undivided attention?  You got it. I will customize our day together to your individual needs while also showing you a good time touring the twisty roads around the beautiful New England countryside. Using Bluetooth helmet communicators allows me to coach you while we ride.
You have the option to do one or two days. A second day can be added by contacting Ken.
You also have the option to bring a friend or spouse to make it a 2:1 student to coach ratio.  This reduces per person cost without diminishing the personal attention too much. This is also popular with couples riding 2-up. See details here.
Personal On-Street Training Tours are designed specifically for experienced riders who want to ride the uncrowded, scenic roads of Western New England, but are also wanting to learn how to increase confidence and enjoyment.
Our Curriculum
Riding in the Zone is a partner with Stayin' Safe Advanced Rider Training and shares the same methods for conducting training tours, however some terms and approaches may differ somewhat. No matter. You can rest assured that both Riding in the Zone and Stayin' Safe are 100% compatible and meet the highest standards of rider training.
What You'll Learn
Slow Speed Maneuver Techniques
Emergency Braking and Swerving
Visual Targets
Lane Position
Body Position
Cornering Precision

Cornering Lines
Timing
Identify visual clues to increase cornering safety and confidence
We will meet in Ashfield, MA at the quintessentially New England Elmer's Store. Ashfield is nestled at the base of the Berkshire Hills and is home of peaceful Ashfield Lake, Rockwellesque Ashfield Hardware and birthplace of the famous movie director Cecil B. DeMille.
Our day begins with an hour or so of closed course drills. The rest of the day includes a training tour through the northern Berkshires of Massachusetts and the Southern Green Mountains of Vermont. During our tour we coach you using bike-to-bike communicators to help you become a safer and more confident rider.
At about 4:00 PM and after an average of about 100-120 miles, we will debrief in Ashfield (or another location closer to your next destination).
Includes:
Personal training with real-time coaching using rider to-rider communicators
Tour through the hidden Berkshire hills of Western Massachusetts and Southern Vermont.
Video of you riding.
Lodging and Food
Lodging and meals are not included with private tours. We recommend staying the night before at the Inn at Norton Hill. Tell Nan that you are a student of mine for a special discount rate. If there are no rooms available, click here for a list of local lodging.
---
Where Will We Ride?
We will be touring around my little bit of motorcycling heaven in the Berkshire Hills of Western Massachusetts and southern Vermont. The beautiful Berkshire foothills have miles and miles of killer motorcycling roads.
Rides will meet at Elmer's Store in the center of Ashfield, MA.
NOTE: There is no cell service in Ashfield to speak of. However, Elmer's has free WiFi.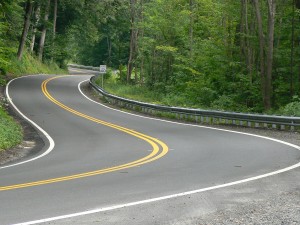 This is what you can expect when riding in the Berkshire Hills.
---
Requirements
At least one season (3,000 miles) of experience.
You must have a current motorcycle endorsement, as well as a legally insured and registered motorcycle.
You must also present proof of health insurance, sign a liability waiver
What to Bring
Riding Gear (required at all times)

DOT-approved helmet
eye protection (windshields do not count as eye protection)
long pants (armored motorcycle pants preferred)
full coverage gloves
sturdy, over-the-ankle boots.

3.5mm earbuds with an inline microphone. EXAMPLE
Rain gear. Tours run rain or shine.
Enough layers (or electric jacket liner) for cool temperatures.
USB Thumb drive that is at least 8Gb in capacity for video
Skill Level
On-Street Training Tours help riders increase confidence and enjoyment in real-world conditions. However, this is not a course for raw beginners! Students are wise to take the MSF Basic RiderCourse or have an equivalent level of skill before signing up. A good guideline is having ridden at least a season (3,000+ miles).
The beauty of Private Training is that it allows me to customize a training program based on your skill level.
Speeds
We will be riding at moderate street speeds and enjoying a street ride through some beautiful countryside with awesome twisty roads. If you want to learn to ride fast in a safe environment, I am available for Track Day Personalized Instruction at Tony's Track Days.
---
---
The Riding in the Zone, LLC Motorcyclist Training Program is  supported by the American Motorcyclist Association and the Massachusetts Rider Education Program (MREP). Scholarships are available through the BMW/MOA Foundation.
Riding in the Zone, LLC is chartered and insured through the American Motorcyclist Association