B&Bs
Preferred Lodging:
The Inn at Norton Hill
SPECIAL DISCOUNT FOR RITZ STUDENTS! (413) 628-4003
10 Norton Hill Road Ashfield, Massachusetts 01330.
The The Inn at Norton Hill is right across the street from Elmer's Store, which is our tour meeting spot.
Simply the Best – Your stay includes a killer breakfast at Elmer's (voted the best pancakes in New England by Yankee Magazine). The Inn is in the center of Ashfield and a short walk to the lake if you want to take a dip after a day of riding.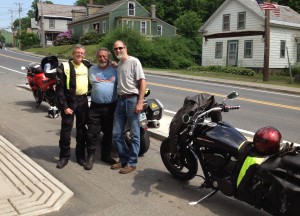 ---
Camping, Cabins or Lodge
Zoar Outdoor Camping & Hawk Mountain Lodging 800 532-7483,
7 Main Street (Rt2, Mohawk Trail) Charlemont, MA 01339
Choose from Tent camping, tent cabins, yurts, or lodge. Inexpensive and fun.
---
Basic Motels
Red Roof Inn in South Deerfield, MA
9 Greenfield Rd, South Deerfield, MA 01373
(413) 665-7161
Northampton Motels
Various places to choose from.
---
More B&Bs
I cannot vouch for the following places:
Bird's Nest Bed & Breakfast (413) 625-9523 (approx. 10 min. ride to Ashfield, MA), Cyndy & Pat Weeks, #2 Charlemont Road, Buckland, MA 01338
A 1797 home in the foothills of the Berkshire Mountains. Three bedrooms with private baths. Full breakfast with local and organic produce, farm fresh eggs, and homemade baked goods. Tea & Coffee always available.
Dancing Bear Guest House B&B (413) 625-9281 (approx. 15 min. ride to Ashfield, MA) Philip & Edith Bragdon , 22 Mechanic St . Shelburne Falls, MA 01370
A European-style Victorian bed and breakfast hosted by innkeepers, Philip and Edith Bragdon. Located in the 1852 Moses W. Merrill house. A 5-minute walk to all Shelburne Falls attractions. Offering an ample breakfast of fresh fruit, fresh-baked breads and pastries, brewed tea, coffee, and espresso.
Inn the village (413) 625-2324 (approx. 15 min. ride to Ashfield, MA)
Marybeth Koreman , 17 High St. Shelburne Falls, MA 01370
Lovely, elegantly appointed 1880 Victorian in the heart of the village. 5 minute walk to shops and Bridge of Flowers. 2 bedrooms, king size beds, private baths, cable TV/DVD, AC and wireless internet. Full breakfast emphasizing our local and organic foods.
The House in Pumpkin Hollow (413) 369-6007 (approx. 15 – 20 min. ride to Ashfield, MA)
Diane Poland , 173 Whately Road , Conway, MA 01341
This lovely 1860 Greek Revival home has been completely restored with both comfort and graciousness in mind.
Nestle Inn (413) 268-8414 (approx. 15 – 20 min. ride to Ashfield, MA)
PO Box 604590 East Guinea Road Conway, MA 01341
Twin Maples (413) 268-7925  (approx. 20 min. ride to Ashfield, MA)
Eleanor & Martin Hebert 106 South Street, Williamsburg, MA 01096
Penrose Victorian Inn (413) 268-3014 Toll Free: 888.268.7711 (approx. 20 min. ride to Ashfield, MA)
Nancy & Dick Zimmer, 133 Main Street Rte 9, Haydenville, MA 01039
Campgrounds
Country Aire Campground
Charlemont, Ma
413-625-2996
Peppermint Park
Plainfield, Ma
413-634-5385
Savoy State Park
Savoy, Ma
413-663-8469
Mohawk Trail State Forest
Charlemont, Ma
DAR State Forest
Goshen, MA
This campground is about 5 miles from Elmer's Store.
---
Back to Training Tours Page