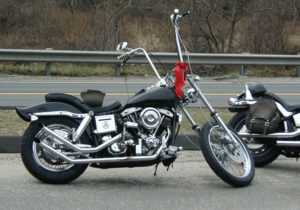 Like politics and religion, it's usually a very bad idea to bring up the Loud Pipes debate in mixed company. But, this website is here to discuss such topics, because your well being is at stake.
Before you assume this is an anti- or pro-loud pipes opinion piece, rest assured that I am sympathetic to both sides of the argument. I've had bikes with loud exhaust and stock exhaust.
My intent for writing this article is to shed light on the effectiveness of certain strategies for surviving the streets on a motorcycle, including loud pipes.
Sirens, and Horns
First, let's discuss whether noise is effective at getting drivers' attention. Before that can be answered fully, we must first define "attention". A loud noise intended as an alert, such as a siren (EMS or law enforcement), a fire alarm, or a horn is perceived as something that requires attention and triggers immediate response.
The appropriate response depends on the noise. A siren heard while driving means you need to pull over. A blaring horn means you may be about to collide with another car (or the other driver is just being a dick). Either way, you snap out of any stupor you may be in and frantically look for the problem.
A siren blasting from a municipal building means a risk to the public, like an approaching weather or seismic event. Even this depends on where you live. In Kansas it's likely to be a tornado. In California, think earthquake. It also depends on where you are. In a movie theater this may mean fire. You get it.
An Example
Did you know that drivers colliding with stationary construction crews is a big problem? Hard to believe, but I guess it's a thing.
Several methods have been tried to mitigate this all-too-common problem with the latest being sound. An article from the Iowa DOT talks about their trial using audible attenuators to alert drivers of construction crews in the roadway. Read the article here.
Below is an accompanying video demonstrating the attenuator. Take a look. I'll wait.
---
Check out these posts:
---
Please Donate to Keep the Articles Coming
If you liked this article and the many other articles on this site, please toss a buck or five into the hat. It's greatly appreciated!
Click the PayPal "Pay Now" button.
Then indicate quantity in $2.00 increments. – Example: put "2" in "QUANTITY" field to donate $4.00, "3" for a $6.00 donation, etc.
Why $2.00? Due to the PayPal fee structure, a $2.00 donation is significantly more beneficial compared to a $1.00 donation.

Thank You!
---
Support Riding in the Zone: Buy a book